Alternative dispute resolution (ADR) describes processes of settling disputes by means other than litigation (taking a case to court).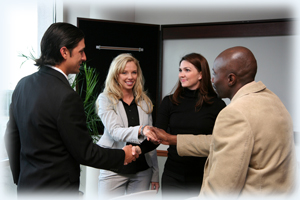 ADR includes:
mediation
arbitration
several other conflict resolution processes.
Mediation, an example of ADR, is an informal, voluntary process to resolve conflicts that can be an alternative to litigation, a means of resolving workplace disputes, and a method for alleviating family conflicts.

Experience has shown me that people often find themselves in a variety of binds. Often it's before a lawsuit or other governmental proceeding is commenced. It may be a contract dispute, or a misunderstanding over a co-owned item such as a boat, vacation house or storage space. I even helped two disputing neighbors reach an agreement over parking spaces.

Perhaps the issue involves patient safety in a nursing home or similar facility housing a loved one. Or perhaps the issue relates to a family law problem. As a divorced parent, and member of the Los Angeles County Bar Association's Family Law Section, I can assure you that there seems to be no limit to which parents will go to try and ease their hurt and humiliation and anger in breaking up. And while the Beachboys can sing about it being hard to do, most parents know full well that when it comes to ending a relationship, the power plays almost always include innocent victims, friends, relatives, or close family members-including small children.

As a member of the ADR Sections of the Orange County, Los Angeles, and San Diego County bar associations, several state bar associations, and numerous professional groups, I continuously monitor and implement changes in the practice of mediation.